The Death bubba strain has two properties that make it extremely remarkable… the first is its origin and the second is the amount of dopeness it requires to try it!
First let's look at the facts, anything that descends from not one but two legends is undoubtedly going to be legendary itself, and so it is with Death Bubba. It came into existence when it was bred by Matteo Suleyman of Vancouver BC's Sea to Sky. He created this terrific mix of the Bubba Kush and the Death Star…each incredible in their own right. And so it was that the Death Bubba strain was born! Bubba Kush passes on its high hitting relaxed qualities to the baby Death Bubba, whilst the Death Star adds energy and a euphoric buzz that can set a dead man to walking!
Death bubba in Canada – It's where the magic was first created. If you decide to try Death bubba, make sure it's Death bubba from Canada, anything else could only ever be second best.
Let's take a good look at the composition for a better understanding of what it consists of and its effects. Indica is dominant with a ratio of 70%, to 30% of sativa, which works really well with uplifting and altering mood. The 70% of indica provides a deep slumber relaxation. THC levels are at a maximum of 27%, helping the hit to be that bit more powerful with a CBD level of 0.65%. The fragrance contrasts hugely with its deadly name. It has a mix of woody earthy tones together with a punch of citrusy goodness, Death Bubba gently wafts around the room like a scented candle. After the sensory introduction it offers for a mix of complex flavours that is very much enjoyed by its users.  With a strong flavourful blend of sweet and citrusy essences, and a spicy under taste. Death Bubba strains are typically grown indoors to get it to flower best, it also prefers a warmer climate. Only experts grow them as they demand intense care and expertise to grow well. The Death bubba from Canada has a cult status with fans because of its very strong effects.
As the Death bubba strain hits, it promotes deep focus and concentration. A great time therefore to get some work done! But our Death bubba strain is indica dominant, so the gradual effects take a dramatic twist… and you need to be prepared for the next part of the journey! For this is the reason why adventurous types take the Death bubba trip. Next the effects begin to intensify and head straight for deep slumber. The experience is almost like a full body numbing sensation. People call it the body coma. Some like to try and be conscious as much as they can to fully experience it, whilst others give in to it, submitting to the death like slumber for total body relaxation. It is highly recommended to take this at night, or if you have plans for a day at home. These effects are what attracts people that are suffering from depression. It really helps uplift their mood and to enjoy a peaceful slumber. Insomniacs find comfort in the Death bubba strain as it gives them a long and deep sleep. The highly sedating effects are a favourite amongst people suffering from chronic pain. It numbs the pain and helps aid a good sleep. Because Death bubba has full body numbing qualities, for cases of arthritis and muscles spasm Death bubba has also been used.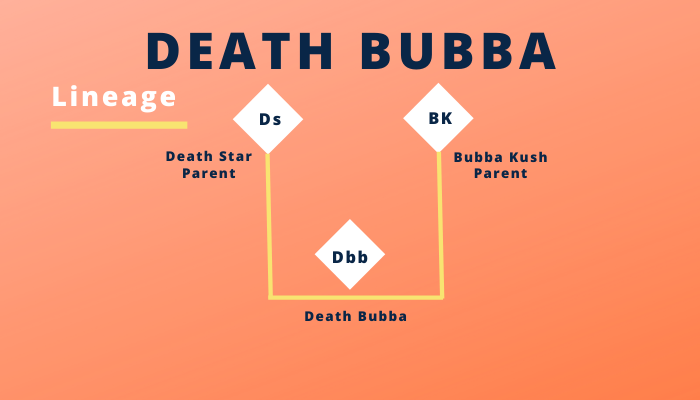 FAQs