What better way to see the blues away than with Blueberry Kush!
Welcome to a world where you can shed your worries by rolling them into a joint and smoking them away. With our Blueberry Kush, you're in for laid-back and chilled out time. Blueberry Kush has earned a league of experienced fans who all love it for what it offers. This is one for the veterans out there who rave of the big blue blast of the Blueberry Kush! It was born in the heart of Oregon after a successful cross between Blueberry and OG Kush (both indica). Blueberry Kush is a hybrid strain of indica (and that's 100% indica), and what a fine one it is! It has great soothing effects that ensure it's always in high demand.
Blueberry Kush's THC levels are at 23% with a CBD level of 0%. The high that it gives hits you hard and is set to stay with you for many hours. You'll be floating in la la land in a most blissful state, feeling a complete take over of body and mind. They call it the wonderland of sedation and  everything about it is a fantasy ride. To look at it you'll see a deep green goodness with frosted trichomes covered in a sticky resin. The aroma doesn't immediately associate with fruitiness, but offers more of a complex soothing smell. The flavours promise a tangy joy ride paired with an earthy raw taste. If you have a hard time with more bitter flavours then you will fall in love with Blueberry Kush for its sweetness.
Blueberry Kush in Canada is a good place to find high quality products and it takes experienced hands to grow this strain as it has very specific growing requirements. It takes about 8 – 10 weeks for it to flower and can be grown both indoors and outdoors. Most people prefer growing Blueberry Kush in Canada indoors as they can control the temperature and care for it more intensively. When growing outside you also have to contend with insects and pests. Another reason as to why Blueberry Kush in Canada (when produced well) is of premium quality.
The effects of Blueberry Kush are so soothing that it helps people with all kinds of problems. As it hits initially it can hit you hard, taking complete control of the body and mind and transporting you off into a land of euphoria. The high THC levels make it very potent and therefore the initial hit gives a great uplift to mood and stimulates creativity. This phase is creatively stimulating as the craziest and most unique ideas can come during this initial hit. The gradual growing of these effects can then pin you to the bed, and yes it even holds down veteran users too!
Those that have a hard time taking a relaxing nap or getting a good night's sleep will find this strain can do it for them. Blueberry Kush in Canada is used by some people for insomnia, and as such it is therefore best taken in the evening or at night. Anorexics also opt for this strain as it highly stimulates appetite (make sure to have some food handy!). Another effect of the Blueberry Kush is that it sedates the whole body and takes away feelings from your limbs. This is why many use it for a relief from chronic pain. There are others that use it for muscle spasms too for the same reason. Blueberry Kush is a real star; it takes away the blues no matter how deep in hue!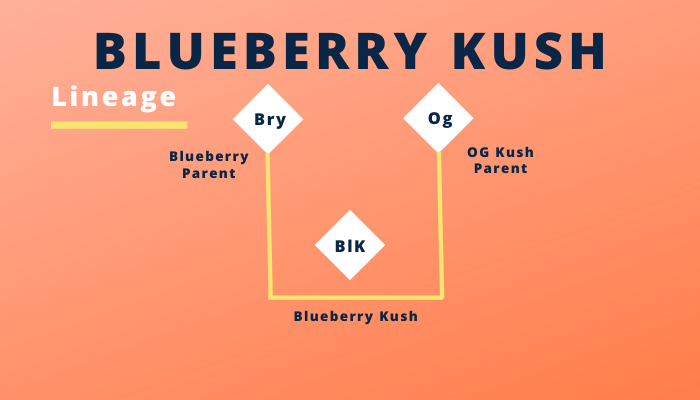 FAQs