Imagine yourself floating and wandering through a woodland full of pink cherry blossoms in full bloom – flowers raining down like snowfall. Imagine walking barefoot on a carpet of flowers without a care in the world. Does this dream world sound enticing? Then Pink Kush may be for you!
We tried to dig very deep, but nobody seems to know the exact origin of Pink Kush. There is talk of the OG Kush being its secret ancestor as it clearly shares some similarities. Pink Kush has a dominance of indica to the ratio of 90% indica, 10% sativa. The composition gives it a CBD level of 1% and THC levels of around 22%. People love Pink Kush  because it can be a real saviour to them – nothing matches the level of comfort and relief that it can give. The aroma is an unusual blend of citrusy, yet raw and earthy fragrances. People don't use Pink Kush for the fragrance of course, the real reason is clear, just as soon as its burst of flavour hits you and the real pleasure begins… There's a citrusy freshness to it, with a hint of minty goodness, and it's accompanied by a nostalgic summer kick of ripe fruits and berries – a real sensory pleasure!
Pink Kush is really good stuff indeed with lots of great traits. The flavour is a one hundred percent hit and its appearance is delightful with colours popping all through the bud, a yellow and orange here, a pink there, and green of course, the look of love!
And of course, the main event itself with Pink Kush is the effects it delivers. Such a euphoric high that can instantly transport you to a land of unicorns and magic rabbits, creating an array of happy vibes and euphoria, free from worries and the pull of negative thoughts. The effects will bid adieu to stresses, seeing them off to a galaxy far away. The sativa which presents around 10% of Pink Kush's composition does a really good job at uplifting the spirit, giving a happy buzz. That is why Pink Kush is a favourite amongst many battling with depression and anxiety. It can calm their worries, end over thinking and relaxes entirely. For people with depression it uplifts sadness and spirit, allowing them to enjoy giggles and a happy buzz.
People with chronic pain such as migraines find relief with Pink Kush and swear by it. There are others that have eating disorders and find that Pink Kush stimulates their appetite, helping them take regular meals. The great thing with these effects is that they are very long-lived. Many people are able to make beautiful creations because it helps boost their creativity. Then there are others that love Pink Kush for its soothing powers, helping them enjoy a good sleep that they otherwise might struggle to have due to insomnia.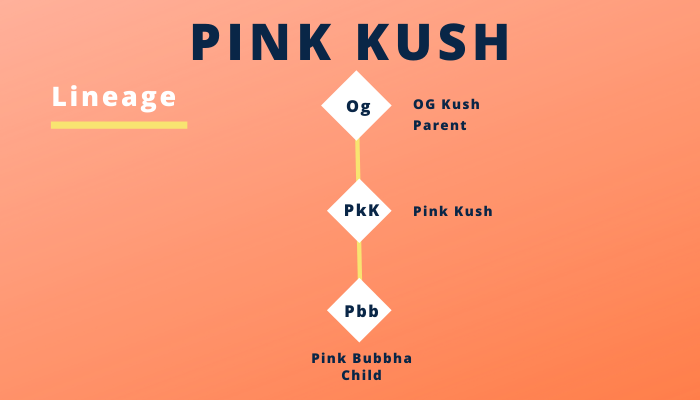 FAQs