When two great things come together, something wonderful is sometimes formed. Have you ever asked yourself, can I have it all? – Well with purple OG Kush, the magic of both OG Kush, and Purple Kush are combined to offer you the best of both worlds!
With the happy & uplifting qualities of the OG Kush, plus the smoothly calming qualities of the Purple Kush, you do get it all…
Let's look at the composition in more detail; Purple OG Kush combines OG Kush and Purple Kush with a ratio of plant strains consisting of 40% sativa and 60% indica. The THC levels found are between 16% to 20% and the CBD level is 1%. The favoured growing climate is both warm and sunny, it thrives in mid october when grown in a Mediterranean climate. The flowering period is around 8 to 9 weeks. It is distinguished by its fragrance, evoking an aroma of an earthy, raw woods filled with berries and tropical damp woods. The smoke of the Purple OG Kush gives unique sensory pleasures.
They say that there's nothing a sniff of purple OG Kush can't heal… A tough heartbreak to deal with? A crap day that sucked the life right out of you? Purple OG Kush offers a delightful escape for you with just a taste of euphoria. As you breathe it in, the pain, the worries, the stress, can all just melt away. You can begin to enjoy every second of your existence…helping you escape it all in a blissful ignorance. The effect can last all night long, as though in a dream world. Decluttering the mind from overthinking, it will calm your nerves helping you to feel light and carefree.
Patients that suffer from depression and anxiety use purple OG Kush because it helps with their symptoms. It can work its magic on chronic pain, making it easier to function and (most importantly for insomniacs) help you have a good sleep.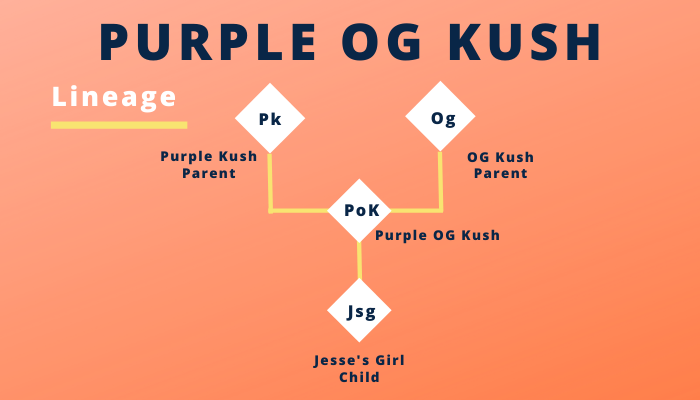 FAQs